Art for Life
Elementary School Legacy Project
This is a mural created for Thurgood Marshall Elementary school using drawings created by the 2011 graduating fifth grade class. Each child was asked to draw themselves as an animal doing their favorite activity at school. Their drawings were recreated in a design that incorporated Seattle landmarks and their school. Each child signed the scroll identifying which piece was theirs. This mural was created with Benjamin Moore flat paint and sealed with a floor sealant. It measures 6'x44'. It can be seen on the back hallway between the cafeteria and the back of the gym.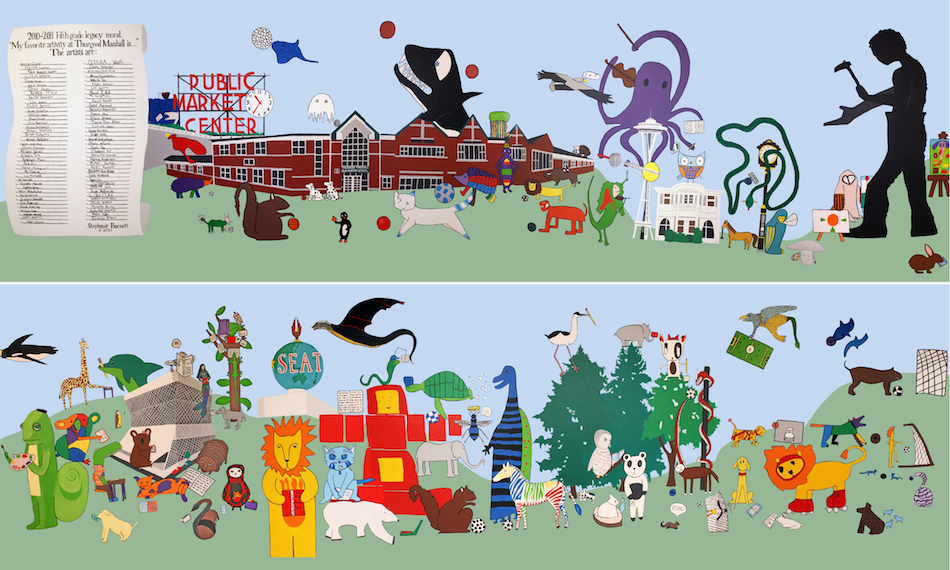 ---
Dining room mural
This landscape mural recreates the feel of scenic wallpaper with a touch of the unexpected. It spans four walls and goes from the wainscotting to and through the ceiling. There is even a branch with 2 birds peering down from the chandelier. Each wall was first created on paper in a sketch and then a final color version. The images are penciled on the primed wall and then painted in, usually background first.The paint for this is Flash from France. It is a vinyal paint that looks completely flat and therefore, like printed wallpaper.










---
Kraken Dresser
This a dresser painted for a young boy's room.








---
Paintings